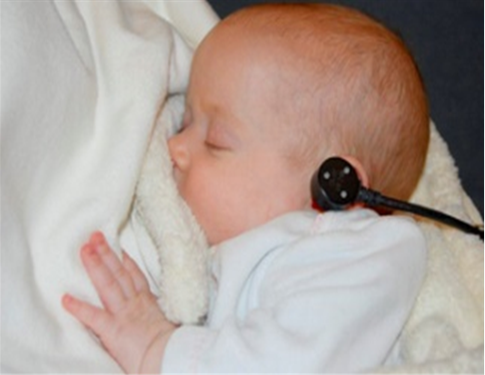 It is critical that children with undetected hearing loss be identified so that appropriate medical and audiologic management can be provided1 in a timely manner. The Joint Committee on Infant Hearing (JCIH) recommends all newborns receive a newborn hearing screening (NBHS) before 1 month of age2. Medical home providers play a vital role in the early identification of hearing loss. A key component may be primary care providers (PCP) choosing to offer (re)screening services. Where these services are not offered, it is imperative that appropriate, timely referrals are made. Does your clinic currently provide follow-up hearing screenings for infants who do not pass at the birthing facility? Here are best practices:
Don't Delay
All babies delivered at birthing hospitals in Oklahoma should receive Automated Auditory Brainstem Response (AABR) screening prior to discharge. If a child does not pass then a follow-up screening should be completed as soon as possible but certainly within one month of life, which is in line with CDC and AAP guidelines 1.
Types of appropriate screening tools that might be available in a PCP's office include AABR and AOAE (Automated Oto Acoustic Emissions). Both of these technologies can be safely and effectively used within hours of birth. Timely screening can lead to early identification of permanent hearing loss which is crucial in maximizing a child's developmental potential.
Prior to a child's initial well-child visit, the PCP confirms NBHS results. In Oklahoma, this can be done through the NBS portal. If a child did not pass at birth, or did not receive a hearing screening, perform a hearing screening as soon as possible or refer to local resources. Physicians' offices may contact the Newborn Hearing Screening Program (NHSP) to obtain information about local providers at
405‐271‐6617 or 1‐800‐766‐2223, or email questions to newbornscreen@health.ok.gov.
Screen Both Ears
When completing an infant hearing screening, national best practice guidelines are for both ears to be screened every time 2. This helps to compensate for human error in scenarios such as a screener incorrectly placing ear couplers on opposite sides, or contra-laterally documenting a unilateral refer. If, in such situations, the person doing the re-screen were to only screen the side they thought had referred, the end result could be a baby that has an unidentified unilateral hearing loss.
Report Results
Oklahoma State Board of Health Rules3 require that "(i) …physicians involved in completing follow-up hearing evaluations will forward test results and recommendations to the Oklahoma State Department of Health in a manner and time frame deemed appropriate by the Oklahoma State Department of Health."
PCP's may use the Newborn Hearing Results Form and fax it to the NHSP at 405 271 4892. Use of this form ensures that the NHSP receives necessary data points including mom's name, ear specific results, and any follow-up recommendations.
Next Steps
If a child passes a repeat screening in the office, no further actions are necessary, unless the child has a risk factor for delayed onset hearing loss2. If a child does not pass, refer to a pediatric audiologist who can provide appropriate diagnostic testing for infants. This should be done as soon as possible, but certainly by 3 months as per CDC guidelines.
If a pediatric audiologist diagnoses a child with permanent hearing loss, then the PCP should ensure that a referral is made to Early Intervention (EI). In the state of Oklahoma, Part C EI services are provided by Sooner Start and are available in all 77 counties. Referrals can be made by the parent/guardian, or any provider involved in the child's health care. EI services are also offered through private practice providers (Non-Part C).
For children diagnosed with a permanent hearing loss, Primary Care Physicians should refer to an ENT and consider other referrals– as appropriate– to ophthalmology, genetics, developmental pediatrics, neurology, cardiology and nephrology.
In summary, RAPID screening, mandatory REPORTING and timely REFERRALS are the key to early identification of hearing loss in Oklahoma's newborn population.
Debbie Earley, AuD, CCC-A; F-AAA
Pediatric Audiology Program Manager
Sam Siegman, M.S., CCC-SLP
NHSP Follow-up/Audiology Coordinator

Oklahoma State Department of Health
References:
1. https://pediatrics.aappublications.org/content/120/4/898.full?ijkey=oj9BAleg21OIA&keytype=ref&siteid=aapjournals
2. Joint Committee. (2007, October 1). Year 2007 Position Statement: Principles and Guidelines for Early Hearing Detection and Intervention Programs. Retrieved from https://pediatrics.aappublications.org/content/120/4/898.full?ijkey=oj9BAleq21OlA&keytype=ref&siteid=aapjournals.
3. OAC310:540: https://www.ok.gov/health2/documents/Newborn%20Hearing%20Screening%20Rules.pdf